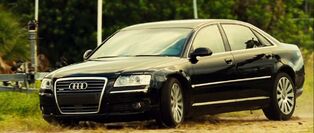 The 2005 Audi A8 6.0 W12 was Frank Martin's second car in the Transporter 2. It replaces the 1999 BMW in the first film.
The features on this car has a security system so that it requires a number code to activate it. Frank also keeps his extra suits in the trunk of this vehicle.
Frank used the vehicle during his job as a chauffeur for the Billings Family driving their youngest son Jack to and from school. When Frank is forced into doing Gianni's bidding driving Lola and Jack to his hideout where Jack is kidnapped. The car is wanted by the police and the FBI as its implication in Jack's kidnapping. Frank is later forced to leave it behind when it is found by police officers and he drives a Taxi to Gianni's house south of Miami. Frank later possibly retrieved the car after all charges against him are dropped.
In Transporter 3 a new Audi is driven by another Transporter name Malcolm Manville, After Malcolm is wounded and dies in an ambulance explosion. Frank is forced into becoming the new driver of the Audi with the package being a woman named Valentina. Frank would used the car as his primary mode of transportation.
Appearances
Edit
Jason Statham drives this car in real life as his own personal vehicle.
External Links
Edit